Akita SpektraShield™ Antifog Coatings: a solution to the problem of poor real-world performance of antifog coatings.
Problem: Some eye and face protection do not use antifog coatings, others use only poor-quality factory coatings or coatings applied by a user, and even the best factory coatings fail quickly when they become contaminated by oils including sunscreens, insect repellent, fingerprints, and machine oils. The result: eye protection is not used, or must be replaced frequently, or vision is impeded!
Akita solution: Battlefield-inspired Anti-fogging: A permanent antifogging coating that is effective in harsh conditions — humid heat and freezing mountain heights — and during maximum physical exertion.
Akita Innovations was contracted by the U.S. Army to develop a next generation anti-fogging coating for tactical eyewear, which led to the development of SpektraShield,™ developed and tested to the most rigorous military standards.
Dynamic, Environment-Responsive Action Resists Fouling: SpektraShield provides the highest measurable anti-fog performance in presence of water vapor and moisture, while repelling oils and other contaminants.
SpektraShield is a dynamic coating that responds to the material that contacts the surface. In the presence of water and water vapor it is hydrophilic, keeping the water from beading and fogging the surface. However, in the presence of oils and other smearing contaminants the surface is oleophobic, keeping the oil from coating the surface and rendering the anti-fog material ineffective. Since the oils are repelled by SpektraShield, the surface is easy to clean and maintains its effectiveness against fogging
Instant Flash Curing: SpektraShield's permanent, scratch-resistant coating bonds to a wide variety of substrates in seconds, by UV-curing. No lengthy thermal curing is required. Using ambient temperature, instant UV curing allows manufacturers to apply an optically-neutral coating in the thickness that is best for the usage: eyewear, face shields, large surfaces, etc.
Ecological Formulation: SpektraShield is available in a solvent-free formulation that can be dipped, sprayed, spin or flow coated.
Testing and validation: The coating was developed with funding from the U.S. Army and tested to rigorous MIL-PRF-32432 standards. It remains fog-free after more than three minutes of exposure to 60°C steam, more than 20X the EN166 requirement!
Compatibility with lenses and optics: The Akita coating can be applied to a wide variety of optical substrates, including polycarbonate, polyamides, acrylic, polyurethane, and glass. It is compatible with ballistic protective eyewear and resists scratches and some chemicals.
Availability: We can supply the coating formulation and work with you to choose the best coating and curing conditions for your particular product. Licensing options are also available. Contact us for details!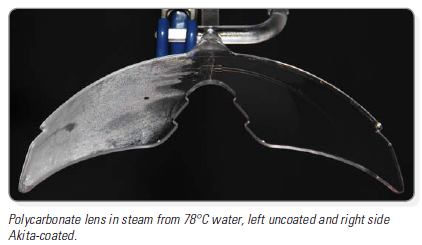 Effect of the Akita antifog coating on a polycarbonate lens: Contamination resistance of the Akita an uncoated lens (left) fogs quickly when exposed to water antifog coating: an oil droplet leaves vapor, while the Akita-coated lens remains clear (right) a trail of contamination on a lens with a high-end competing coating (left), while on an Akita coated lens the oil slides down the surface leaving nearly no.residue
How does it work?: The Akita coating is engineered to respond dynamically to the presence of water droplets that cause fog by refracting and scattering light, causing them to spread out on the surface into a thin, transparent layer. But unlike competing antifog coatings that also cause contaminating oils to spread, ruining the antifog property, the Akita coating forces oils to bead up, preventing their spread and making the contamination easy to remove.

Antifog Coating Fluids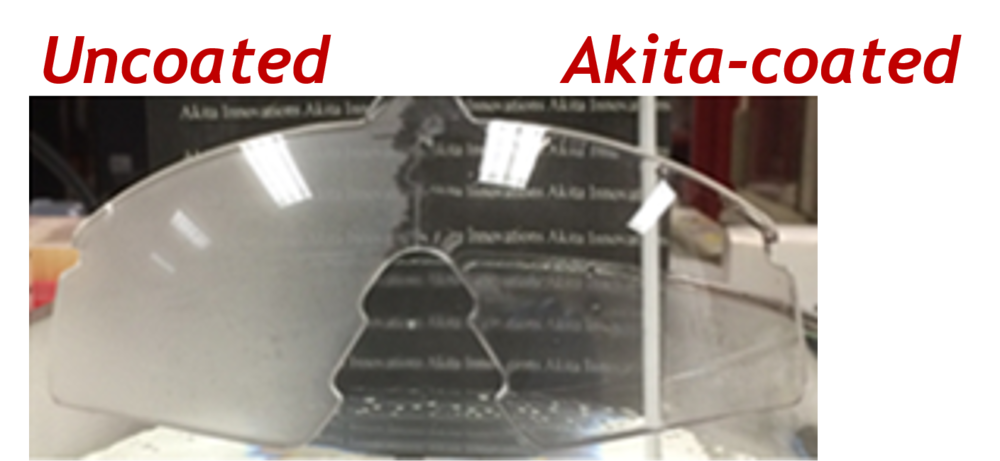 SpektraShield 2036 An economical, clear, UV-cured coating for optics. Contact us to discuss properties and pricing.
SpektraShield 2085 A high-performance UV-cure antifog coating for optics, that resists contamination by oily liquids that cause other antifog coatings to fail in use. Contact us to discuss properties and pricing.