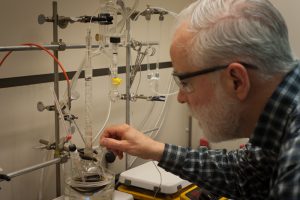 Akita Innovations performs contract research and development of chemicals, materials, and sensors for government and private customers.
Laboratory and Fabrication
We have a fully equipped and permitted chemical laboratory with synthesis and chemical characterization equipment and an optical/engineering laboratory for optical testing of materials and sensor design and testing. Our scientists can design and synthesize novel compounds and materials from the milligram to the multi-kilogram range. For larger quantities, we will select and work with a manufacturer to produce, qualify, and deliver the materials you need at the quality you demand. Our capabilities include coatings, polymer synthesis and characterization.
Flexible and Confidential Outsourcing
Akita Innovations can be an efficient extension of our clients' R&D teams or an independent development group assigned a specific development goal. For each project we form flexible development teams using our staff and outside experts from leading edge research groups.
ITAR Compliant
International Traffic in Arms Regulations (ITAR) regulations control the export of defense-related articles and services on the United States Munitions List (USML). Akita Innovations complies with all applicable regulations.
DCAA Accounting Compliance
Akita is a member of the National Armaments Consortium (NAC) and has a DCAA-compliant accounting system (Defense Contract Audit Agency).